Alumni Spotlight
A look at distinguished alumnus of the Management and Organization department at The Pennsylvania State Smeal College of Business.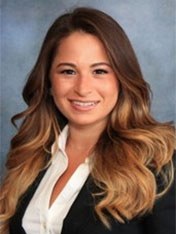 Bianca Denis
Class of 2015
Hometown: Woodbury, NY
University and Smeal Organizations: 
Smeal Human Capital Student Consultants

Treasurer
Honor and Integrity Director

Sigma Kappa National Sorority 

Vice President of New Member Education
Work Experience:
Bell Helicopter, Textron (Fort Worth, TX) | Textron Leadership Development Program (LDP)
Associate Labor Relations Representative
What did you do in this role and what did you learn?
"During my first rotation in Labor Relations, I was responsible for facilitating all issues pertaining to Bell's four (4) unions, UAW 218, UAW 317, BPEA, and SPFPA 256. I interpreted collective bargaining agreements, reviewed past practice, relevant policies or laws to provide advice and counsel to HR Business Partners, management, customers and stakeholders. I also learned the in-depth processes and tireless hard work that went into grievance meetings, arbitration preparation, and all-nighter negotiations. My conflict management skills were strengthened every day and dealing with ambiguity became my daily norm. Most importantly, I developed critical relationships with Union leaders and
business leaders.
"Throughout my first rotation, not only did I learn a lot about the role, but also, I learned a lot about my interests. I stepped out of my comfort zone and it forced me to learn and grow professionally. My biggest take away from my first rotation was that it is essential to be an employee advocate and to build those critical relationships for employees to feel valued and respected. If your goal is to resolve problems, there needs to be alignment among the Union Leadership and Company Leaders so that issues are resolved before they become grievances. In HR, you will not always be the fan favorite and you may need to have difficult conversations with employees and leaders. Therefore, I learned to not take things personally in Labor Relations. As an HR professional, you will have to listen to various sides of one story, but it is vital to advocate for what is right and fair. Most importantly, do what you love and continue to educate yourself in your field."
Labor Relations Specialist
What do you do in this role? What can you tell us about your career path?
"My current role is very similar to my first role when I initially joined Textron, except that I have more job responsibilities because I am in a senior position. When I graduated college, my goal was to focus on excelling in the HR Generalist space. Joining Textron's Leadership Development Program opened so many doors that I did not know were possible when I accepted the offer. I had the pleasure of completing my first rotation in Labor Relations at Bell Helicopter in Fort Worth, Texas. When I first was assigned to Labor Relations, I had no idea what to expect. Before starting at Bell, I had never taken a Labor class, and I had never been exposed to a unionized work environment. I quickly realized that Labor Relations was a completely different beast than what I had known to be HR. All the fundamentals learned at Smeal set me up to tackle this new role and use any transferable knowledge. All of my experiences in my first rotation and Smeal helped me hit the ground running when I arrived at Textron Systems- Weapon & Sensor Systems for my second rotation, where I became an HRBP for ISC, IT, EHS and Security. This role ended up being different than anticipated since we reshaped and restructured the organization. These changes directly affect the HR function and unfortunately, result in a reduction in workforce. This role came easier to me because of the classes, projects and lessons I learned while in school. I navigated the WARN layoff process and encountered new types of employee relations issues. During my two rotations, I experienced two difficult facets of HR and they have only made me more prepared for my current assignment and future roles. I had a great experience in my first rotation role and wanted to come to continue my learning and development in a covered workforce. Also, I specifically wanted to return to Bell for UAW 218 negotiations that would be a vital experience in my labor career. My career path has not been what I expected, however, it has shaped me to find my passion. In the future, if I decide to explore different centers of excellence in HR, I will be ready because of my educational background and my choice to major in Human Resources Management in the Smeal College of Business."
Favorite Management Class:
"My favorite management class was MGMT 326: Organization Behavior and Design. This course was the foundation of building my HR knowledge. Throughout the semester, I learned how to work with different personality types and how to manage various challenges at different organizational levels. My collaboration skills were strengthened in team-based activities and I learned the importance of people's role in an organization. Lessons taught in this class did not just pertain to a class room setting, but students were asked to dissect and analyze real- world examples to drive lessons home to become relatable. Out of all my classes at Penn State, I believe this was the class that got me to understand and know my classmates on a whole other level."
What career advice would you offer to a student considering Human Capital at Smeal?
"Human Resources is an integral part of an organization. Throughout layoffs, talent moves, implementing new processes and personal life changes, HR is the function that supports others. HR is the holder of the culture and developing the students that will one day become HR is just as crucial as finding the right talent for the rest of the organizations. There are only a few schools that allow students to major in Human Capital studies and Penn State is one of them. Those students become the leaders and most valuable when they on-board. When I joined Textron, most of my peers graduated with Psychology, General Management, or Liberal Arts degrees and they learned as they went. I felt that I had an advantage and built on my knowledge rather than re-learned what my job was supposed to be. My advice would be to invest in yourself and in your future, the right way with Human Capital at Smeal."
How did Penn State prepare you for your career?
"I contribute my success in my Labor Relations role to graduating from Penn State with a Human Resources Management major at Smeal. The major I chose taught me how to be an HR Business partner and the required fundamentals needed when entering an organization like Textron. As I started my career, I was more prepared, aware and well-rounded in the HR arena. When I made the decision to further my career in Labor Relations, I had all the tools I needed to understand the other side of HR because of all the HR management classes and specifically my mentor, Dr. O'Hara."