The G. Albert Shoemaker Program in Business Ethics
From left, Jim Thomas, former John and Becky Surma dean of Smeal; Mercedes Shoemaker; Jack Jacobs, guest lecturer and Medal of Honor recipient; and Linda Treviño, distinguished professor of Organizational Behavior and Ethics and director of the Shoemaker Program in Business Ethics, during the 2007 annual G. Albert Shoemaker Lecture in Business Ethics event.
The G. Albert Shoemaker Program in Business Ethics was established in 1985 through a $100,000 gift from the late G. Albert Shoemaker and his wife Mercedes. The Shoemakers made the donation to Smeal because of the importance with which they regard ethics in corporate conduct and management decision-making.
The donation created an endowment to encourage academic and corporate interest in business ethics. The Shoemaker Program supports speakers on the topic of business ethics, interactions between speakers and students, the development of ethics-related instructional materials, as well as scholarly research.
Linda Treviño, Distinguished Professor of Organizational Behavior and Ethics, is Director of the Shoemaker Program.
G. Albert Shoemaker Biography: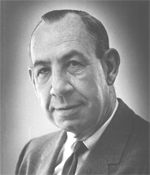 G. Albert Shoemaker was the retired president of the Consolidation Coal Company in Pittsburgh and president emeritus of the Board of Trustees of the Pennsylvania State University. A resident of Pittsburgh, Mr. Shoemaker also was a director of Dravo Corp., Norfolk and Western Railway Co., Pittsburgh National Bank, American Standard, Inc., and Consolidation Coal.
A native of Parkesburg, Pennsylvania, Shoemaker graduated from Penn State in 1923 with a bachelor of science degree in mechanical engineering from the College of Engineering. Most of his career was spent in the coal industry. After earning his degree, he served as an engineer with Babcock and Wilcox in New York, then took a position with Union Collieries in Pittsburgh. In 1943, Union Collieries merged with Consolidation Coal and the Pittsburgh Coal Company under the Consolidation name to form the nation's largest coal operation. In 1946, Shoemaker was named vice president of the firm's Pittsburgh Coal Division and president of the division two years later. He became vice president of Consolidated Coal in 1951 and executive vice president in 1953. Named a director of the company in 1956, he became Consolidation's president in 1960.
In 1957, Shoemaker was elected to Penn State's Board of Trustees by delegates of industrial societies and was reelected to successive terms until 1978. From 1970 to 1973, he was board president. During his association with the Trustees, Shoemaker served on a number of standing committees and was chair of endowments and gifts, and research. In addition, he was a member of The Milton S. Hershey Medical Center Advisory Committee, the Executive Committee, and the University's Special Advisory Committee on Affirmative Action.
In 1965, Shoemaker was honored as a Penn State Distinguished Alumnus. In July 1978, he was named a trustee emeritus and was elected president emeritus of the board in 1985.
His business activities also included serving as chair of the National Coal Policy Conference, Inc., and as a member of the executive committee of the National Coal Association, the Bituminous Coal Operator's Association, and the General Technical Advisory Committee for the Department of the Interior's Office of Coal Research. After his retirement, he served as a consultant to several coal firms.
His civic and public service associations included work with the board of the Regional Industrial Development Corporation (Pittsburgh area) and the Pittsburgh Regional Planning Association. He also was chair of the boards of the St. Clair Memorial Hospital and Mercy Hospital of Pittsburgh. In addition, he was a member of the Allegheny Conference of Community Development.
Shoemaker died in 1990 at the age of 89.