Graduate Diversity at Smeal
Why Consider Penn State Smeal MBA Program
The internationally ranked Penn State Smeal MBA connects you with top companies. We equip you with the knowledge and skills to land and thrive in that perfect post-MBA job and prepare you for success across the arc of your career.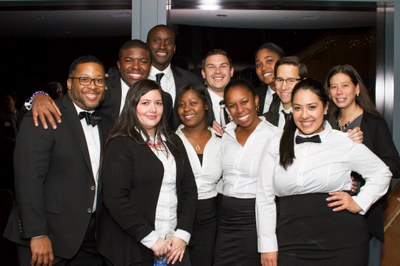 Smeal Graduate Diversity
At Penn State and  Smeal College of Business, we are committed to the increased diversity of our community.  Through the Diversity Enhancement Programs, the mission is to assist in the development of a diverse, pre-eminent learning community, through programs established for recruitment and retention of underrepresented populations as well as helping to create a welcoming climate for all students, faculty, and staff.
Underrepresented Minorities
Smeal believes that the a Graduate Education is one that not only includes the academics, but a social responsibility aspect as well.  African-Americans, Hispanics, and Native Americans are represented within the Graduate Programs at Smeal.
Women
Women of Smeal have made a significant impact in our graduate community.  We at Smeal are strongly committed to the presence and achievement of women in our faculty, staff, and student body.  We are dedicated to reducing the gender gap in the business workplace and in business schools.
LGBT
Smeal and its community openly accepts members of the Lesbian, Gay, Bisexual, and Transgender (LGBT) community to our faculty, staff and student body.  Today's business' are diverse in thought, in action, and in philosophy, so it is important for the MBA Program at Smeal to create an inclusive environment where all students and staff can be accepted.
Military
Smeal is strongly committed to members of the veteran community and provide many resources for making the transition from military service to the civilian world of business.  We provide support for the admissions, academics, professional, and social aspects of the MBA Program.
Student Organizations and Events
Through the Office of Diversity Enhancement Programs (DEP) and the MBA Office, students are provided with an alumni mentors, have access to mock interviews, resume reviews and case study practices.  Students have access to these resources along with the following clubs and national organizations which seek to increase awareness and empower diverse candidates at Smeal and beyond.
Minority MBA Association (MMBA) -

The purpose of the Minority MBA Association (MMBAA) is to add value to the Penn State community through continual diversity awareness and recruiting events. The MMBAA strives to create a sense of community by providing a strong support base for professional development and enhancing the academic experience of MBA students.

National Association of Women MBAs (WMBA) - Smeal -

The National Association of Women MBAs Penn State Smeal Chapter is dedicated to enhancing the personal, professional and economic development of graduate business women and promoting professional, philanthropic and social networking opportunities. We want to serve as a catalyst for the advancement of women in their respective fields. We encourage them to take leadership opportunities within the workplace and contribute to the future development of their disciplines. We honor women leaders who have made significant contributions to the business world.

Smeal MBA Military and Veterans' Association -

The Smeal Military Veterans Association provides MBA Admissions, the MBA Student Body, and veterans at the Smeal College of Business with support for recruiting, professional development, and leadership service throughout the academic year in order to create and sustain a mutually beneficial relationship between the College and its veterans.

National Black MBA Association (NBMBAA) - is comprised of

minority MBAs, business professionals and MBA students. Students in the MBA program are encouraged to attend both the case competition and career expo sponsored by this groups each year. Smeal and Penn State provides various support and preparation services to our students attending these programs both before and during the events, including mock interviews, resume reviews, case preparation, and company networking sessions.

National Society of Hispanic MBAs (NSHMBA) - is a national organization made up of MBAs, business leaders, and current MBA students with the goal of

increasing the number of Hispanics graduating from master's business degree programs through scholarships, professional development, and mentorship.  Smeal also encourages students to attend the annual career expo and conference.  Smeal provides support for students who wish to attend the annual conference each fall.



Reaching Out MBA Conference (ROMBA) -

Reaching OUT MBA's goal is to empower LGBT MBA students to become professionals who will lead the way to equality in business education, in the workplace, and throughout society.  At Smeal we share this same goal and have resources available to help all students feel welcome at Smeal.  ROMBA also has an annual career fair and conference which Smeal students are encouraged to attend and supported by Penn State.
Graduate Diversity Fellowships
As a diverse MBA student you will the opportunity to compete for diversity scholarships: 
The Bunton-Waller Fellowship provides for tuition and stipend for selected students.  

Bunton-Waller graduate assistantships are merit based and seek to enhance the diversity of the student population within the 

Smeal MBA Program. Assistantships from this program are awarded to individuals from various ethnic and cultural 

backgrounds with strong academic and professional potential.

Current Bunton-Waller Fellows

are enrolled in the MBA program and work within the college to support and further the goal of the Bunton-Waller Fellowship.

The Virginia Kimmel Award provides tuition assistance for qualified students.  

In 2007, Harvey '64 and Virginia Kimmel challenged Smeal alumni to raise contributions of $20,000. If this goal was achieved, they would match it. Alumni were not only successful in donating $20,000, but they exceeded the goal! Harvey and Virginia Kimmel continue to show unyielding support to the Office of Diversity Enhancement.

Scholarships and Financial Aid for LGBTQ Students (http://www.learnhowtobecome.org/college/financial-aid-for-lgbtq/) This guide aims to reduce the stress of college for LGBTQ students by assisting with one key element: financial aid. Read on to find scholarships and other financial aid for LGBTQ students – plus learn expert tips for overcoming hurdles during the application process, such as gender identification and parental estrangement.