Marine Corps Logistics Fellowship brings supply chain to the battlefield
Lieutenant Colonel Thomas M. Warren and Major Jaehong "Jay" Park of the Marine Corps explain how their education in supply chain systems at Penn State furthers their careers in the Marines.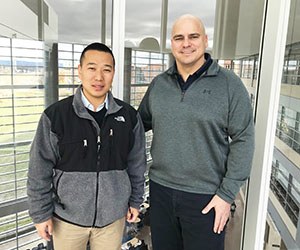 Penn State's relationship with the military is ingrained in the school's history. From the Blue Band's performance honoring the military at the military appreciation football game to the Freedom 5k for PTSD, military appreciation week is always a memorable and important time at Penn State to thank our armed forces for their commitment to our nation. Ever since Penn State was established as a land-grant university in 1863, the military has had a tremendous impact on our school. Our ROTC program is one of the nation's largest and oldest, and Penn State has a long-standing relationship with the Department of Defense for its research capabilities.
The Smeal College of Business has a special relationship with the military in the Marine Corps Logistics Fellowship program. Each year, two Marines undergo a competitive selective process to be chosen for the fellowship. Its purpose is to further the education of the selected Marines in supply chain in their respective military roles earning their master's degree upon completion. The program is a hybrid of on campus MBA courses and online courses at Penn State World Campus. It was established to prepare supply professionals for the military's ever-changing requirements for effectiveness on the battlefield, which has evolved to include new supply chain and logistics trends, e.g., artificial intelligence and machine learning in military supple chains.
The Marines selected for the Smeal's Supply Chain and Information Systems 2018 program are Lieutenant Colonel Thomas M. Warren and Major Jaehong "Jay" Park. LtCol Warren most recently served in the Joint Staff Logistics Directorate at The Pentagon and Maj Park most recently served as the Chief of Contracting, Expeditionary Contracting Section for Headquarters Regiment, Third Marine Logistics Group in Okinawa, Japan.
"Every time Marines deploy, especially to austere environments, we have to design a resilient supply chain consisting of local and regional goods and services suppliers, as well as traditional U.S. suppliers based in the continental United States," explained LtCol Warren. He emphasized the importance of understanding the political and cultural climate of the environment one works in, and how the supply chain should be accordingly shaped to augment scarce logistics forces with locally procured civilian services such as material handling, food service, and even unskilled labor.
Maj Park came from a supply officer background, and previously only saw the technical side of resupplying and sustaining troops. Through his fellowship at Penn State, he is learning the strategic side of supply chain with IT implementation, and how to solve optimization implications from a geographical area. Maj. Park is writing his thesis on artificial intelligence implementation in inventory management will present his case study to Marine Corps leadership. "I'll be bringing a tangible knowledge base to real solutions." said Maj Park.
Both Marines agree interacting with their classmates has greatly contributed to their experiences and studies at Penn State. LtCol Warren commented, "You learn just as much from your fellow students, there are students from the military, the maritime shipping industry, oil, and tech, and many more."
LtCol Warren and Maj Park said their transition to life at Penn State has been seamless for themselves and their families. Both expressed gratitude to the Supply Chain and Information Systems staff at Smeal for making State College feel like home, especially to Dr. David Huff, Tami Barnes Confer, Jen Brungard, and Ashley Kuhn.