Linda Bixby, LMI
Profile of CSCR Advisory Board Member, Linda Bixby, Ph.D.

Linda Bixby, Ph.D.
Director, Academic Programs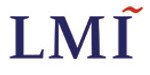 CSCR Corporate Sponsor since 2001

Linda Bixby leads LMI's academic programs, facilitating formal working relationships with universities nationwide.  She plays an integral role in advancing the mission of LMI Research Institute (LRI) to spur innovation and further groundbreaking research, to include logistics and supply chain, in support of the U.S. government.
Bixby has supported the U.S. government for more than 25 years in academic, executive, management, operational, technical, and analytical positions. She previously served as LMI's vice president for the Intelligence Community, leading a team dedicated to bringing LMI's services and capabilities to customers in intelligence, homeland security, federal law enforcement, and diplomacy.
Prior to LMI, Bixby served in the U.S. government, receiving numerous commendations. She's also been an executive at a Fortune 500 company and vice president of operations at a small, woman-owned business. She is a former associate professor and scholar in residence on the faculty at American University. Her publications and academic contributions include Domestic Danger, In Pursuit of Justice, Learning from History, and War-Time Slave and Forced Labor. 
Bixby participates actively in AFCEA International, the Intelligence and National Security Alliance (INSA), and the National Defense Industrial Association (NDIA). She earned a doctorate in history and completed her master's program in history and Soviet studies at the Freie Universität Berlin. She obtained bachelor's degrees in communications and German studies from the University of Arizona, and she is a certified project management professional.