Graduate Diversity
This page contains information about the Diversity Programs available to Graduate students, both Masters and Doctorate, at SMEAL
Why Consider Penn State Smeal MBA Program
The internationally ranked Penn State Smeal MBA connects you with top companies. We equip you with the knowledge and skills to land and thrive in that perfect post-MBA job and prepare you for success across the arc of your career.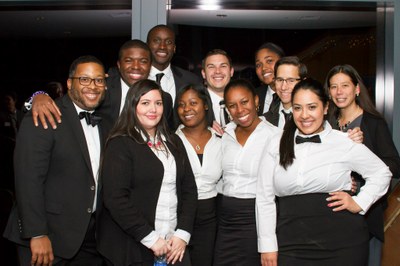 Smeal Graduate Diversity
At Penn State and  Smeal College of Business, we are committed to the increased diversity of our community.  Through the Diversity Enhancement Programs, the mission is to assist in the development of a diverse, pre-eminent learning community, through programs established for recruitment and retention of underrepresented populations as well as helping to create a welcoming climate for all students, faculty, and staff.
Underrepresented Minorities
Smeal believes that the a Graduate Education is one that not only includes the academics, but a social responsibility aspect as well.  African-Americans, Hispanics, and Native Americans are represented within the Graduate Programs at Smeal.
Women
Women of Smeal have made a significant impact in our graduate community.  We at Smeal are strongly committed to the presence and achievement of women in our faculty, staff, and student body.  We are dedicated to reducing the gender gap in the business workplace and in business schools.
LGBT
Smeal and its community openly accepts members of the Lesbian, Gay, Bisexual, and Transgender (LGBT) community to our faculty, staff and student body.  Today's business' are diverse in thought, in action, and in philosophy, so it is important for the MBA Program at Smeal to create an inclusive environment where all students and staff can be accepted.
Military
Smeal is strongly committed to members of the veteran community and provide many resources for making the transition from military service to the civilian world of business.  We provide support for the admissions, academics, professional, and social aspects of the MBA Program.
Student Organizations and Events
Through the Office of Diversity Enhancement Programs (DEP) and the MBA Office, students are provided with an alumni mentors, have access to mock interviews, resume reviews and case study practices.  Students have access to these resources along with the following clubs and national organizations which seek to increase awareness and empower diverse candidates at Smeal and beyond.
Minority MBA Association (MMBA) -

The purpose of the Minority MBA Association (MMBAA) is to add value to the Penn State community through continual diversity awareness and recruiting events. The MMBAA strives to create a sense of community by providing a strong support base for professional development and enhancing the academic experience of MBA students.

National Association of Women MBAs (WMBA) - Smeal -

The National Association of Women MBAs Penn State Smeal Chapter is dedicated to enhancing the personal, professional and economic development of graduate business women and promoting professional, philanthropic and social networking opportunities. We want to serve as a catalyst for the advancement of women in their respective fields. We encourage them to take leadership opportunities within the workplace and contribute to the future development of their disciplines. We honor women leaders who have made significant contributions to the business world.

Smeal MBA Military and Veterans' Association -

The Smeal Military Veterans Association provides MBA Admissions, the MBA Student Body, and veterans at the Smeal College of Business with support for recruiting, professional development, and leadership service throughout the academic year in order to create and sustain a mutually beneficial relationship between the College and its veterans.

National Black MBA Association (NBMBAA) - is comprised of

minority MBAs, business professionals and MBA students. Students in the MBA program are encouraged to attend both the case competition and career expo sponsored by this groups each year. Smeal and Penn State provides various support and preparation services to our students attending these programs both before and during the events, including mock interviews, resume reviews, case preparation, and company networking sessions.

National Society of Hispanic MBAs (NSHMBA) - is a national organization made up of MBAs, business leaders, and current MBA students with the goal of

increasing the number of Hispanics graduating from master's business degree programs through scholarships, professional development, and mentorship.  Smeal also encourages students to attend the annual career expo and conference.  Smeal provides support for students who wish to attend the annual conference each fall.



Reaching Out MBA Conference (ROMBA) -

Reaching OUT MBA's goal is to empower LGBT MBA students to become professionals who will lead the way to equality in business education, in the workplace, and throughout society.  At Smeal we share this same goal and have resources available to help all students feel welcome at Smeal.  ROMBA also has an annual career fair and conference which Smeal students are encouraged to attend and supported by Penn State.
Graduate Diversity Fellowships
As a diverse MBA student you will the opportunity to compete for diversity scholarships: 
The Bunton-Waller Fellowship provides for tuition and stipend for selected students.  

Bunton-Waller graduate assistantships are merit based and seek to enhance the diversity of the student population within the 

Smeal MBA Program. Assistantships from this program are awarded to individuals from various ethnic and cultural 

backgrounds with strong academic and professional potential.

Current Bunton-Waller Fellows

are enrolled in the MBA program and work within the college to support and further the goal of the Bunton-Waller Fellowship.

The Virginia Kimmel Award provides tuition assistance for qualified students.  

In 2007, Harvey '64 and Virginia Kimmel challenged Smeal alumni to raise contributions of $20,000. If this goal was achieved, they would match it. Alumni were not only successful in donating $20,000, but they exceeded the goal! Harvey and Virginia Kimmel continue to show unyielding support to the Office of Diversity Enhancement.

Scholarships and Financial Aid for LGBTQ Students (http://www.learnhowtobecome.org/college/financial-aid-for-lgbtq/) This guide aims to reduce the stress of college for LGBTQ students by assisting with one key element: financial aid. Read on to find scholarships and other financial aid for LGBTQ students – plus learn expert tips for overcoming hurdles during the application process, such as gender identification and parental estrangement.
This page provides biographic information for current MBA Bunton-Waller Fellows at Smeal.
Class of 2015

Tiffani Guerre
Tiffani Guerre is originally from New York City, NY and The Poconos, PA. Prior to enrolling in Smeal's MBA Program, Tiffani worked for 2 years as a quality assurance analyst, 1 year for Dotbox (Blucarat) and 1 year for American Arbitration Association. Tiffani received her BS in 2011 in Management Information Systems, minoring in International Business and Latino/a Studies from Penn State University. Tiffani is in her 2nd year of her MBA with a concentration in Supply Chain Management and Strategic Leadership. This past summer Tiffani interned for Dell in Round Rock, TX in their Global Support & Deployment department. After graduation she plans to pursue a career in Project Management.

Carolina Herrera
Carolina is originally from Colombia. After High School graduation she moved to Houston where she completed her undergraduate degree in International Business at University of Houston. After graduation, she interned with Schlumberger in Sourcing for new product development, and subsequently was offered a full time position as a Procurement Specialist where she supported manufacturing for Coil Tools. At Smeal, Carolina is concentrating in Supply Chain Management, Marketing and Strategic Leadership. After graduation Carolina plans to seek a career in Supply Chain Management.
Boakai Lalugba
Boakai Lalugba is from East Orange, NJ and is first-generation Liberian. He attended Bucknell University in Lewisburg, PA where he received his Bachelor's degree in Business Administration with a concentration in Marketing. After completion of his undergraduate degree, he played professional basketball in Finland, France, Israel, and Sweden. Currently he is a 2nd year MBA student at Penn State concentrating in Marketing and Strategic Leadership. This  summer Boakai worked for the Reading Royals, a minor league hockey team in the NHL AA development league, as the MBA Marketing Intern. After graduation he plans to pursue a career in Consumer Insights or Sports Marketing.

Jenny Montague-Rodriguez
Jenny is originally from Peru, where she received her Bachelor's degree in International Business Management from the National University of San Marcos. Prior to enrolling in Smeal's MBA Program, Jenny worked for more than four years as an international logistics specialist for Cargo and Freight forwarding companies and also as Project Manager of Expansion (buildings and set up of new stores) for Grupo Elektra; a Mexican multinational retail company.  She has participated as volunteer in some non-profit organizations on her home country. She is currently a graduate assistant at the Diversity Enhancement Programs office, and participates in the Minority MBA Association (MMBA) and Women in MBA Association as VP of Corporate Relations. She is pursuing her MBA with concentrations in Supply Chain Management, Sustainability and Strategic Leadership.

Takkeem Morgan
Takkeem is originally from Philadelphia, PA.  He earned his Bachelor's degree from Penn State University with a degree in Communications Arts and Sciences.  After graduating he worked as the University Development Manager.  Takkeem is concentrating in Finance and plans to pursue a career in Finance after graduation in the spring.

Dharell Mosby
Dharell Mosby is from Queens, NY. He attended Pennsylvania State University, where he received his Bachelor's of Science degree in business with concentrations in marketing and management. Upon completion of his undergraduate degree, he relocated to New York City to work for Tiffany & Co. in their repair service center. After almost two years with T&Co., Dharell later worked for American Education Services, Bank of America, Toys "R" Us and Resorts World Casino in New York. Prior to returning for his MBA at Smeal, Dharell was a Casino Cage Supervisor in the finance department at Resorts World where he managed 20 employees and oversaw the cash flow management of $7M on a nightly basis. He is currently in the second year of the MBA Program and is on track to graduate in 2015 with a concentration in Finance, Strategy and Entrepreneurship.  Upon graduation, Dharell plans to seek a career in Corporate Finance.

Brittanie Phillips
Brittanie Phillips is originally from Florida. She attended Penn State for her undergraduate degree in Finance and is currently pursuing her M.B.A. in Marketing at Smeal. Prior to business school, she lived and worked in New York City. Her past work experiences includes Marketing in the Entertainment & Art industry and a Consulting background in Financial Services. Upon graduation, Brittanie plans to pursue a career in Brand Management.

Nahom Woldemariam
Nahom Woldemariam is originally from Addis Ababa, Ethiopia. He attended University of Virginia in Charlottesville, VA and received his Bachelor of Arts degree in Foreign Affairs. He also received a Master of Arts degree in Development Economics from Pennsylvania State University School of International Affairs before attending Smeal MBA program. He collaborated with Professor Johannes Fedderke to design the first Growth Accounting Model to Ethiopia's double digit economic growth in the last decade. Currently, he is a 2nd year MBA student at Smeal College of Business concentrating in Finance and Supply Chain Management. This past summer Nahom worked for Novartis as a Strategic Sourcing Intern in the Category Country Organization (CCO) division. After graduation, Nahom plans to pursue a career in investment or commercial banking.
Class of 2016

Ingrid Garces
Ingrid Garces was born in Bogota, Colombia and raised in Los Angeles, California. She attended the University of California, Los Angeles and received her Bachelor of Arts degree in Sociology with a minor in Education.  Before attending the Smeal MBA program, Ingrid was the head manager of the marketing, social media and PR department for Barefoot Dreams, Inc..  Currently she is a 1st year MBA student at Penn State concentrating in Marketing and Entrepreneurship. After graduation she plans to pursue a career in marketing.

Gregory Keel
Gregory Keel is originally from Ewing, NJ.  After graduation, he moved to Atlanta, GA to attend Morehouse College where he earned his Bachelors in Accounting with a minor in Spanish.  Upon completion of his matriculation, he worked for Deloitte & Touche, LLC as a Financial Statement Auditor before moving to the Washington, DC area to work as a Staff Accountant at the US Department of Treasury.  Gregory also worked as a Senior Consultant for Dominion Business Solutions and earned his Project Management Professional (PMP) Certification.  Gregory decided to pursue his MBA at Penn State's Smeal College of Business where he is currently a first year student with concentrations in Supply Chain Management and Strategic Leadership.  Upon graduation from the MBA Program, Gregory plans to seek a career with a Consumer Goods Company within their Supply Chain.

Meredith Monroe
Meredith Monroe is a 2010 graduate of Pennsylvania State University with a degree in finance and minors in international business and Spanish. During her time at Penn State, she was a member of the Penn State Lady Lions basketball team, the Athletic Directors Leadership Institute, and Spiritus Leoninus. In 2011, Meredith launched her career with Boeing as a member of the Business Skills Rotation Program in Philadelphia, PA. Her rotations included Procurement Financial Analysis, Integrated Scheduling, and Overhead Rates and Factors.  She is currently pursuing her MBA at the Smeal College of Business and concentrating in Marketing, Strategic Leadership, and will be customizing a concentration in Organizational Design. She is also a graduate assistant in the Smeal Diversity Enhancement Office and holds the position of Professional Development Advisor.

Giancarlo Montjoy
Giancarlo is a first-year MBA student at Penn State's Smeal College of Business concentrating in both Marketing and Strategic Leadership. Prior to his MBA, Giancarlo defined a strong marketing/communications career, with 9+ years of experience, in corporate communications, fully-integrated marketing firms, boutique PR firms, marketing research firms, non-profit organizations, freelance journalist as well as a self-starting entrepreneur when the job market down-turn occurred.  Most recently, Giancarlo worked at Burson-Marsteller, an industry-leading global communication strategy firm, where he planned, led and executed multi-million dollar strategic communication campaigns for Intel to position them as as global, innovative corporate citizen within 7 business verticals: Datacenters; High Performance Computing; Education; Mobility; Financial Services; Federal Solutions; and the Open Data Center Alliance. Born in Lima, Peru and raised in Miami, Giancarlo has had an up close-and-personal view of Miami's rich and vibrant Hispanic culture. Giancarlo attended Florida International University where he received a Bachelor of Arts degree in Public Relations with a double minor in Psychology and Photography. He currently resides in State College, Pennsylvania with his fiancé and his dog, Bruno.

Shanel Tate
Shanel is originally from New York, but moved to Washington, D.C. to earn her B.B.A in Business Management from Howard University. Prior to joining Smeal's MBA program, Shanel worked for three years as a Paralegal in Government Contracts and Mergers and Acquisitions for Crowell & Moring, LLP, an international law firm headquartered in Washington, D.C. She is currently a first-year MBA student concentrating in Marketing, Finance, and Strategic Leadership. She also works as a Graduate Assistant for the Diversity Enhancement Programs office, and participates in such organizations as the Minority MBA Association, the Women's MBA Association, Net Impact, and the Marketing Association.
Ian Wetzel
Ian is originally from Sacramento, California.  Before leaving the West Coast, Ian received his BA in International Business in Marketing from Loyola Marymount University in Los Angeles.  Upon completion of his undergraduate degree, Ian worked as a consultant for gkkworks in their educational planning department.  After 6 years of enjoying the LA weather, Ian decided to head to the East Coast.   He is currently a first year MBA student, concentrating in Marketing and Finance.  He works in the Diversity Enhancement Programs and is also involved in the Marketing Association, Minority Association, and MBAA. After graduation, Ian hopes to pursue a career in brand marketing.