2014 ABSAP Conference
2014 ABSAP Conference
Tuesday, July 15 - Friday, July 18, 2014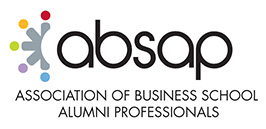 The Association of Business School Alumni Professionals (ABSAP) is a network and resource for alumni professionals working in the top 30 business schools, as defined by the rankings of Bloomberg Businessweek for full-time MBA programs and U.S. News & World Report for undergraduate business programs.
Join us for the 13th Annual ABSAP Conference at the Penn State Smeal College of Business. Connect with fellow ABSAP members for three days of networking and idea sharing on Penn State's University Park campus.

VIEW THE LIST OF CONFERENCE ATTENDEES

VIEW ABSAP SCHOOLS' ORGANIZATIONAL CHARTS


VIEW BENCHMARKING SURVEY SUMMARY

COMPLETE THE POST-CONFERENCE SURVEY

HOTEL INFORMATION
Nittany Lion Inn
200 West Park Avenue
State College, PA 16803 
814-865-8500
http://www.nittanylioninn.psu.edu/

QUESTIONS
If you have any questions about the conference, please contact Jennifer Crispell, Director of Alumni Relations for the Smeal College of Business at jmo182@psu.edu or by phone at 814-867-4269.